Laken got a new toy today. a JuMpErOo! he loved it. just sat in it for.ev.er and stared at the lights and toys. i love how he concentrates and focuses so much on it. my mom came in and even SHE couldn't get his attention.
such a great thing to come home with a toy and your kids just thinks you rock ass cause you brought it to him. he stare then look at me seriously as if to say, "hey mom! you rock ass!"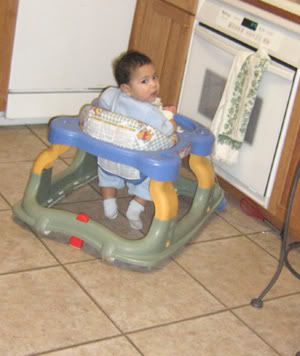 **** funny story from today.
we're sitting in training at the new job - learning how to send emails through our intranet and the girl next to me says, "I sent you a practice email." well, i'm the cool kid in the class so everyone sends an email to me (i'm lying - there were only two) and she says "did you get my email?" i look at my inbox and say no. No emails from Kellie. and she looks at my monitor and says, "Yes! there it is!" and i look at the name of the sender and it says "Ronald K" i look at her and then it hits me!
Ladies and gentleman - we have a transvestite! Only he... or she... or heshe is going through sex change operations. i learned waaaaaaaay too much about that whole process today.
it was funny though. in a weird way.
anyway... i'm getting outta here... maybe i'll wake up on time tomorrow?!