Rise in ...
cow tipping!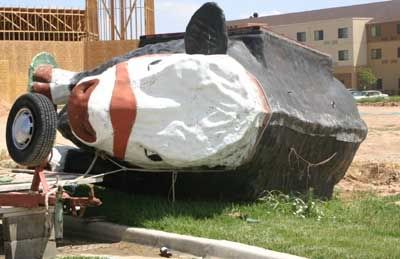 only in West Texas... only in west Texas.


can everyone please
email me
your addresses? i'd like to send snail mail to you every now and then because, well, i am currently on a kick for cards. i just started making them recently and would love to send some more stuff out! so get to it!!! and i need bdays and dates i need to note! thankyouverymuch.
well, i was asked for my blog addy by HIM and i told him he couldn't have it because i talk about him. he just kinda smiled. i'm not sure about this guy. really not. and i know you're all probably slappin' your foreheads right now, but well... i was looking at him closely today... and he's hairy. i'm not big on hair. really. it's this thick, hair. on his chest, arms, legs. i'm afraid if i run my fingers through it, one of my nails will get caught and pulled off. i know this is rude. but well, some girls are worse. Anyone who really knows me knows i have a thing for teeth and hands. and i think his teeth are nice. his hands are nice too... but then they're sprinkled with hair. (not his teeth of course.)

anyway, we went cow tipping today. the above photo is of a cow that is actually rather large. about the size of a Suburban or so. it goes in front of the Country Barn Restaurant. and it's been tipped. if you look closely, you can see a beer bottle in front of it. i wonder if the cow got a little "tipsy!" ??? omg, sometimes i just crack myself up!