as i promised...
first off... i thought this was funny and you'd get a laugh - at the very least!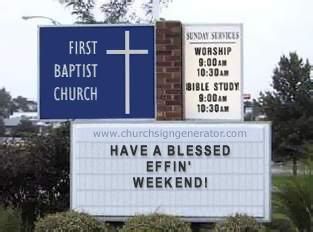 second - i said i would post random thoughts... and i've collected them over the week.

** My mom informed me the other day that i am no longer in my early 20s. she went on to tell me i'm not even in my mid-20s, but that i'm in my late 20s! ack! where the hell have all my years gone? if you find a bottle of goldschlagger - please check to see if the remnants of my last 6 years are floating at the bottom...

** today i was in the bathroom at school in the science building... and there was grafiti. it read "gravity sucks" and i don't know why - but that absolutely made my day!

** i want a shirt with the Periodic Table of Elements on it. i know this is just broadcasting to the world the extreme nerdiness that possesses me... but i want one because, well, i'm a nerd!

** does anyone else's iPod play the same damn songs on shuffle all the damn time?? i've even rated them to play different songs and some less than others... and nope. still the same songs. and there are thousands of songs in there!!! why am i not hearing them all?

** when i was younger - i wanted to be a prostitute. seriously. and it's all because of Pretty Woman. my cousin and i would dress up in our leather skirts and fishnet pantyhose and walk around saying "work it - own it..."
** my friend monica and i were separated at birth or very possibly cloned. except she's a skinny little size FOUR witch that looks like Eva Longoria. but in the "life department" we're very alike. she called me the other day and asked what i was doing... i said "studying on the toilet!" and she laughed and said "OMG! i do that TOO!" we're perfect for each other!
** i just realized that Biology courses are easy. Genetics, ladies and gentlemen... is easy.
** organic chemistry on the other hand - is NOT going to be easy.
** somewhere in the midst of being a mother and student,employee and everything else i am - i've lost my confidence in relationships. think i have nothing to bring to "the table" and well - that's fine and dandy to think that - but quite another to tell HIM that.
** i just realized... i'm not just getting older - but i already AM old. i'm walking around campus with kids. i'm not a kid!
** wearing the thongs today and HALLELUJAH! they're right where they're supposed to be! my logic? would you prefer to have a piece of material one inch thick for a wedge or the entire piece of material that it takes to cover your fat arse in the first place, shoved up in your goodies?? huh? huh?
and now - i'm off to O-Chem. i love to walk campus - gives me hope that i'll lose some poundage while doing it....