mommy goggles...
please keep your nasty comments to yourself. i love my son very much and you'll often hear me say that i can't believe i made it this long
without
him. So anything that you ever hear me say in reference to my son that will make you crinkle your brow and want to send me nasty emails because you can't believe
HOW MEAN I AM -
is all in fun. so shut it!
I am never serious about stupid comments or names i give my son like "booger" or "turd"...
with that being said:
When i was pregnant i kept hoping that i wouldn't get "Mommy Goggles" which is similar to what i had when i got pregnant in the first place (Beer Goggles). So i keep having flashbacks of "A Baby Story" where mom's see their babies and think they are just the most beautiful thing in the world and in reality, people are just lying to you about how "cute he is!" so i was afraid that when he was born, i would have these Mommy goggles and the world around me would be referring me to their eye doctors! The only pretty baby i have seen was my cousin Lucy's. We joke with her telling her that he was so cute when he was born and we didn't have to lie about it!
anyway, i have the most beautiful baby in the world. but the minute he was born, i was like "please switch him in the nursery." he had these big ol' cheeks, a mass of curls on his head, and hair all over his back (flippin' monkey) - in short, he wasn't very cute! and it's okay, i'm fine with that because now that his swelling is down he's much cuter! (plus he's grown into his head!)
so daily i goo and gaa at my son because i can't get over how frickin' beautiful he is! and then there are times like these...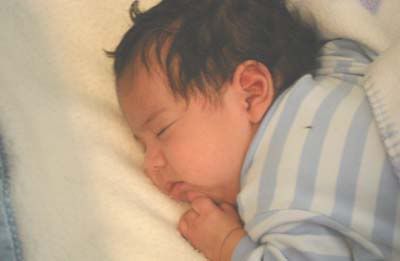 when he makes ugly faces like he's constantly constipated or just plain disgusted with living already! (he must get that from me) These are the moments when i think, "Do i have Mommy Goggles? Is my son actually ugly and i'm just not aware of it??"
but... my son redeems himself everyday when he smiles at me!
so keep your nasty comments to yourself! i may have mommy goggles but i'm
proud of it!!!